As a consultant, you decipher partner notes, read decks and countless emails every day. But hand on heart: When was the last time you read a whole book? The busy Microsoft founder and philanthropist Bill Gates reads about 50 books every year (No pressure! 😉 ). One of the greatest technologists in history, Gates still draws on one of the oldest information technologies – the written word – to further his understanding of the world.
We'll tell you why you should take the time to read a book, even if you're a stressed consultant. And if you're still missing the right reading material, get inspired by Bill Gates' list of his 5 current favorite books!
⇓ Go directly to the 5 book recommendations by Bill Gates (2018)
If you want to check out more book tips , don't miss our latest article: 5 books Bill Gates recommends for your summer vacation (2019)
Why you should read books even as a consultant
Stress Relief
It has been scientifically proven that reading books has a stress-reducing effect. According to a study by neuropsychologist Dr. David Lewis, stress levels drop even more than with other relaxing activities, such as listening to music or going for a walk. When you read, you immerse yourself in a story and leave your difficult projects and stressful clients behind. Six minutes a day is enough and serves as a kind of short vacation for your brain!
Knowledge
As a consultant, you are likely to specialize in a particular area and always move thematically within the boundaries of business terminology. That's why you should broaden your horizons every now and then and look completely beyond your consultant's horizon.
A whole universe of knowledge awaits you there! You can read about philosophical topics or about people who live a completely different life than you. You never know when this might come in handy. Bill Gates says so himself: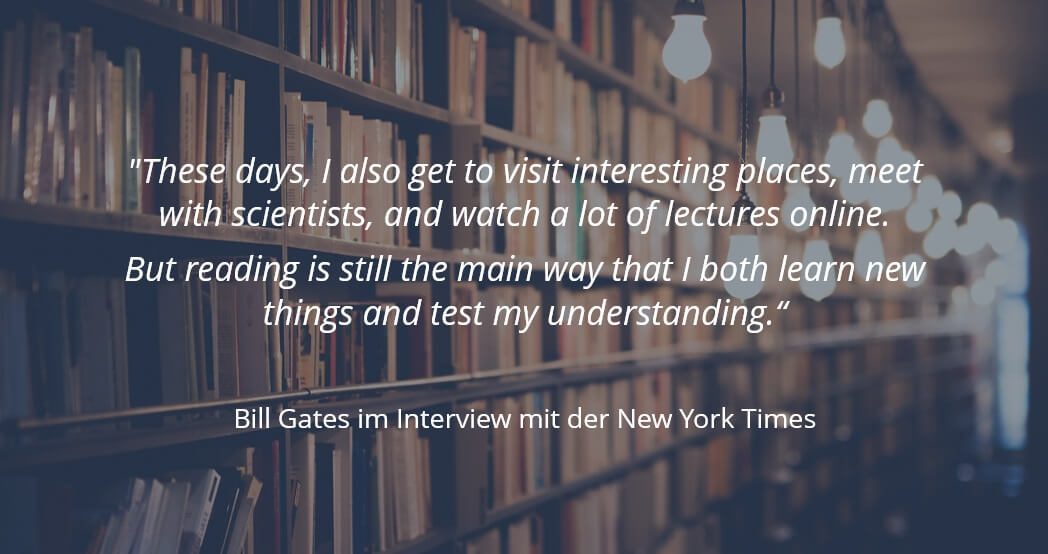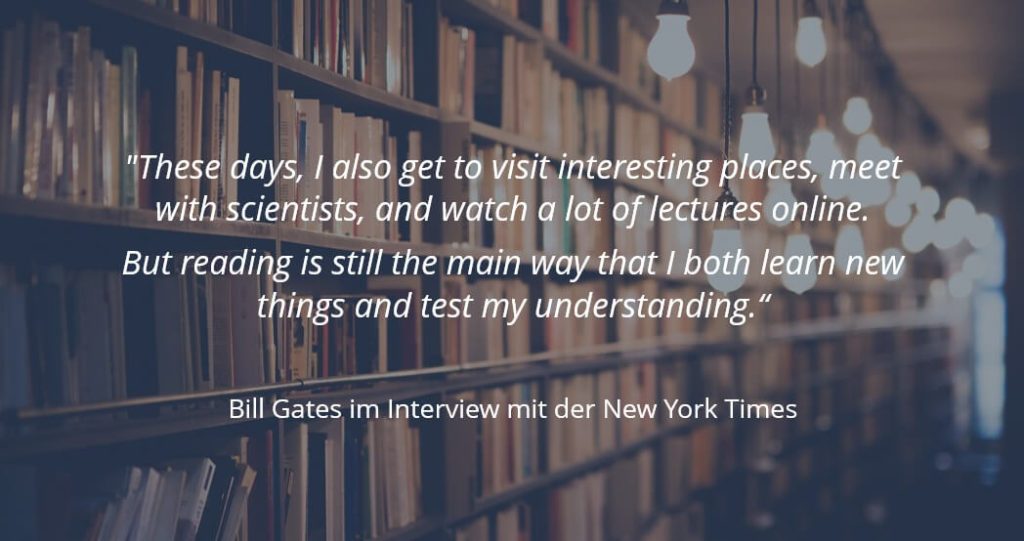 Stronger analytical thinking skills
Have you ever read a mystery novel and solved the crime yourself before you finished the book? You use the same ability to analyze details when you criticize actions.
For example, you automatically worry about whether it was a well-written piece, whether the characters developed properly, or whether the plot went smoothly. So, without even realizing it, you are training your analytical skills while reading – the perfect way to develop yourself as a (freelance) consultant!
More focus and concentration
Especially as a consultant, you have to handle several tasks at the same time in your fast-paced everyday life. In a span of just five minutes, you continue to work on your project, check your email, keep an eye on your smartphone, and interact with colleagues. This type of ADHD-like behavior causes stress levels to rise and lowers your productivity.
When you read a book, on the other hand, you have to give your complete attention to the story. Otherwise, you will not be able to follow the plot. By doing this regularly, your brain won't unlearn how to focus on just one thing. So next time you have a short break, better pick up a book! You'll get more out of it than when you're in front of Netflix, smartphone in hand, scrolling through social networks.
5 book recommendations from Bill Gates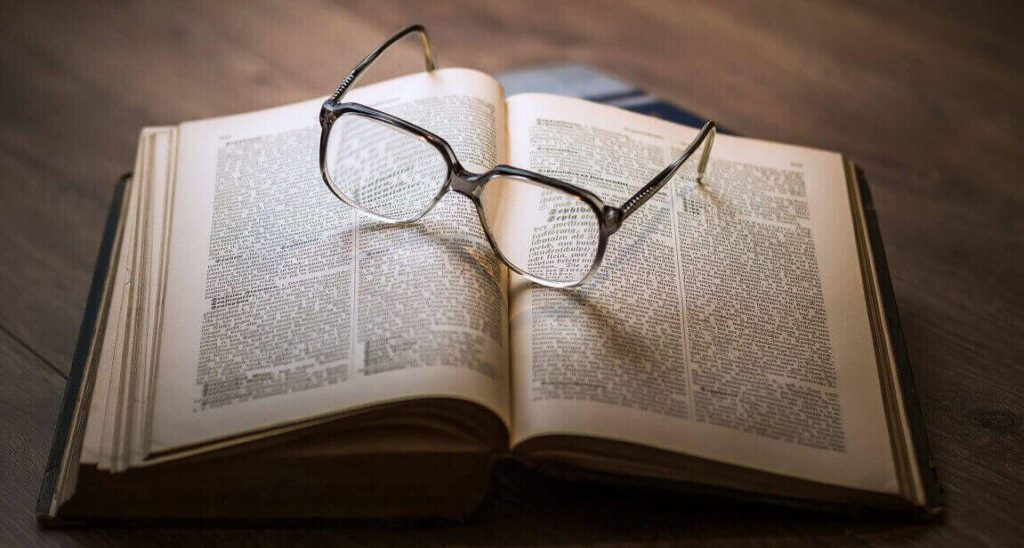 Bill Gates' list is pretty eclectic this year, from a how-to guide on meditation to an exploration of autonomous weapons to the story of the fall of a Silicon Valley startup. Surely there is a suitable book for you and if not, then maybe a last minute gift idea for friends or family!
1. bad blood: secrets and lies in a silicon valley startup by john carreyrou
Do you know the story of Silicon Valley startup Theranos? The business idea was to create a holistic blood picture in just a few seconds based on a small blood sample. Elizabeth Holmes, who founded the start-up at just 19, quickly became a rising star in Silicon Valley. The problem: The technology never worked – not even close.
It was journalist John Carreyrou who uncovered the fraud in 2015 – twelve years after its inception. In his riveting book, Carreyrou gives the ultimate insider's look at the history and fall of the company once valued at nearly $10 billion. He excitingly describes the elaborate scams, corporate intrigues, headlines, and broken family relationships. Bill Gates could not put the book down!
To the detailed review of Bill Gates
To the original edition on amazon | To the German edition on amazon
2. 21 Lessons for the21st Century by Yuval Noah Harari
What are the biggest challenges and most important changes at the moment? What should we pay attention to? What should we teach our children? Yuval Noah Harari answers these profound questions and provides a framework for anyone concerned about the current state of the world.
Labor, war, nationalism, religion, immigration, education and 15 other important issues are covered. In doing so, the book is solution-oriented. The author gives some practical advice on how to deal with the challenges we face. Among them, for example, are his three-point counterterrorism strategy and tips on dealing with fake news.
To the detailed review of Bill Gates
To the original edition on amazon | To the German edition on amazon
3. army of none by paul scharre
Everyone is talking about digitization in the consulting industry, but have you ever thought about how weapons and wars might look in the future with the digital transformation? Paul Scharre's book is dedicated to illustrating this complicated issue and provides food for thought. In an understandable way, he shares his expertise as a veteran who helped shape U.S. government legislation on autonomous weapons. His book takes a holistic and critical look at artificial intelligence in warfare.
To the detailed review of Bill Gates
To the original edition on amazon
4. educated by tara westover
With this New York Times bestseller, Tara Westover wrote down her memories of an extreme childhood. Until she was 17, Westover had never attended school. Growing up in a Mormon survival household, the young girl had to teach herself everything. Gates is inspired and impressed by the young woman whose drive to learn was so strong that she ended up making it all the way to a doctorate at Cambridge University.
To the detailed review of Bill Gates incl. Interview with the author
To the original edition on amazon | To the German edition on amazon
5. The Headspace Guide to Meditation and Mindfulness by Andy Puddicombe
Especially as a consultant you should deal with the topic of stress management sooner or later. This will help you not only for your personal well-being, but also to cope with the stressful workday. Even better than reading books is meditating. Bill Gates and his wife have recently become enthusiastic about it and recommend Andy Puddicombe 's book as the perfect introduction to the subject.
The story begins with Puddicombe's personal story from a university student to a Buddhist monk. Later, it becomes an entertaining guide to meditation. If you want to try meditating directly, you can also download his guided meditation app.
To the detailed review of Bill Gates
To the original edition on amazon | To the German edition on amazon
Video: 5 Books Bill Gates loved in 2018
By the way, just like Bill Gates, we don't use amazon affiliate links 😉
Admittedly: Even on our team, we often resort to the lazy method of audiobooks or other media. But Bill Gates' book recommendations really made us want to read a book again. And if not, then one or the other copy is at least an inspiration for a last minute Christmas gift! What do you mean?
If you want to check out more book tips , don't miss our latest article: 5 books Bill Gates recommends for your summer vacation (2019)