If you're a management consultant looking to make the move into freelance consulting, you're probably asking yourself a lot of questions: How do you manage to become successful as a freelance consultant and land projects on a regular basis? How do you register your activity with the tax office? What daily rate can you charge to get the most out of it?
Answers to questions like these can be found in the following second part of our freelance guide. Because we tell you how to become a successful freelance consultant in 10 steps. If you're looking for a first introduction to freelance management consulting, check out the first part of the guide too! Among other things, you'll get information about the differences between the terms freelance vs. freelancer and recommendations on the ideal time to leave freelance consulting.
Overview:
1) Make sure that freelance consulting is right for you.
3) Define your focus and expertise
5) Build up a network for your project acquisition
6) Plan the timing of your cancellation
7) Register your freelance activity with the tax office
8) Take care of accounts and insurances
9) Master your time management
➥ Infographic: In 10 steps to becoming a freelance consultant [PDF]
Become a freelance consultant now
1) Make sure that freelance consulting is right for you.
Before you deal with the first bureaucratic hurdles, you should be sure that freelance consulting is the right thing for you. Of course, working as an employee for a consulting firm has its disadvantages. You work under strictly regulated structures and have little control over your working hours, projects and clients. But as a freelance consultant, you will face other problems instead. Because with more freedom comes more responsibility.
If you just want to escape your current boring job, your motivation for freelancing probably won't be enough in the long run. Therefore, it is important to weigh the pros and cons and compare your current situation with that as a future freelance consultant. The following comparison should help you:
Comparison between permanent employment and freelance
| | |
| --- | --- |
| Permanent position | Freelance |
| You have more security and a secure and high income in the short term. | You'll have an unsteady income, but probably a higher hourly wage and better work-life balance in the long run. |
| You are given projects and goals. | You can choose the projects, but you also have to take care of the project acquisition yourself. |
| You get pressure from partners and superiors. | You are your own boss, but dependent on the customer, who also puts you under pressure. |
| The employer takes over the settlement towards the social security and even about 50% of the contributions. | You must take care of all tax and insurance matters yourself (or consult a tax advisor). |
| Management consultancies have entire teams to obtain market data and take care of travel planning. | You have to manage everything yourself without "knowledge team" and "admin support". |
| You have a solid network of colleagues. | You are on your own and have no permanent team. |
The most important questions you need to ask yourself before making the leap into freelancing are:
What is your motivation? Independence? Flexibility? Money?
How high is your financial cushion in case you don't find a project? How much time do you have available to build up a customer base?
Are you ready for the responsibilities of self-employment and taking care of issues like taxes, billing and a steady stream of income yourself?
Alternatives for Freelance Consulting
You have the feeling that freelance consulting is not the right thing for you, but you are still unhappy in your current position? Then another form of consulting exit or a change within the consulting industry might be an option for you. The following table shows you how freelance consulting stacks up against other exit options: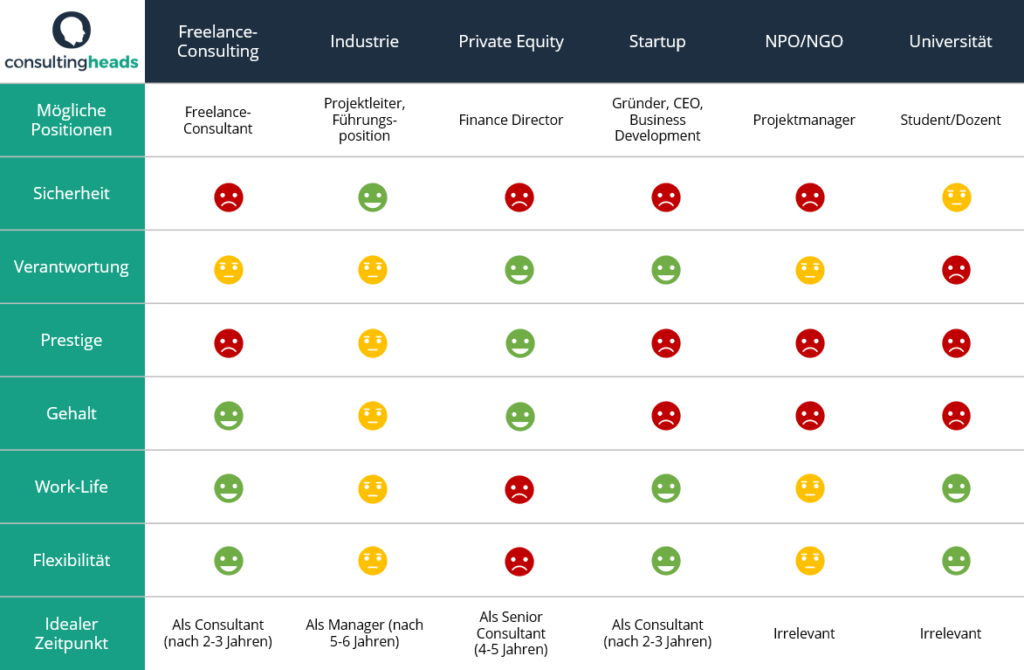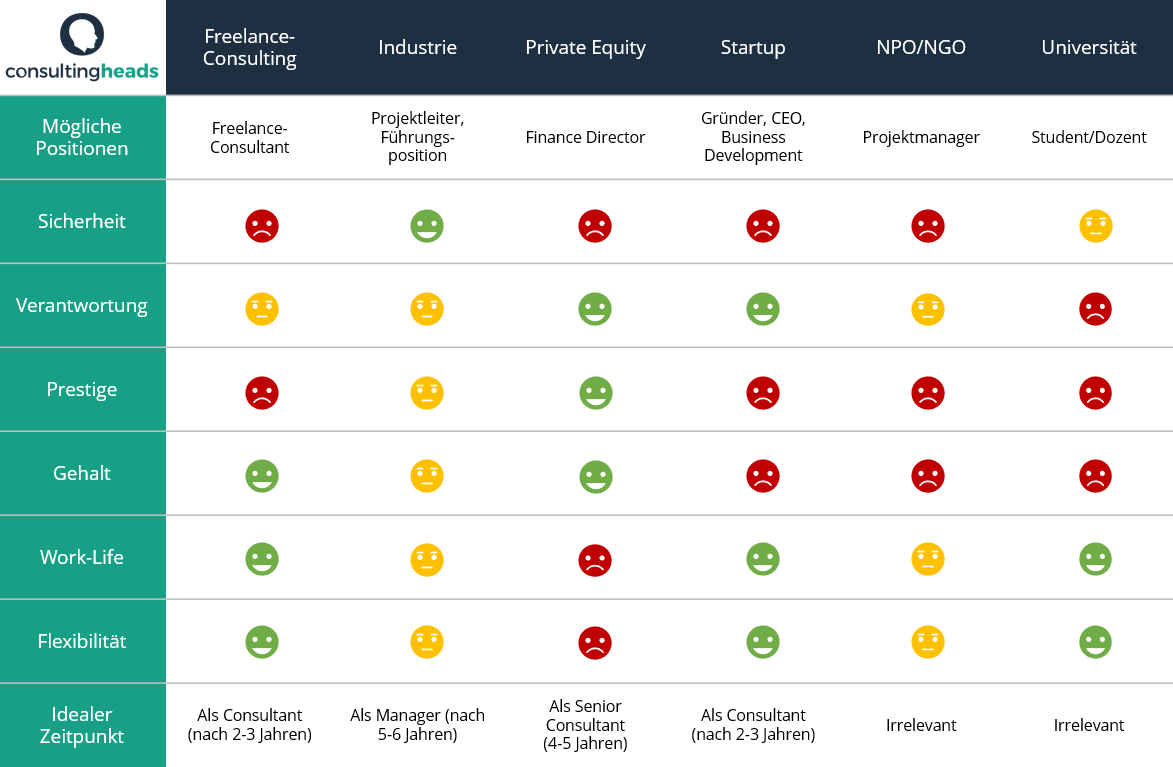 2) Manage your expectations
Your previous considerations will now help you with the second step. Once you have considered all the disadvantages of freelance consulting, it will be easier for you to remain realistic in your expectations of the new profession. Don't idealize your dream of becoming a freelance consultant and mentally prepare yourself for the challenges ahead. This will help you stay assertive when you face your first difficulties as a freelance consultant.
For example, many aspiring freelancers choose this consulting exit primarily for the freedom and independence it offers. As a freelance consultant, you are actually no longer tied to a specific company. Nevertheless, you do not work one hundred percent only for yourself. You're still working for someone else – and that's the customer. You have to stick to the client's schedule and are completely on your own for all client contact. You should not underestimate that!
3) Define your focus and expertise
One of the most important questions you should ask yourself as a prospective freelance consultant is: What is your USP? How do you differentiate yourself from your competitors and how do you want to convince potential clients of your merits? Are you a generalist or an expert in a particular industry or function? What industry or areas do you want to focus on for project acquisition? Have you already acquired any certificates or qualifications that set you apart from other consultants?
If you are one of a few experts in an area that is particularly in demand, you are filling a gap in the market and have hit the jackpot, so to speak. You will easily find projects in your field. The professional expertise of our freelancers on consultingheads indicates that knowledge in IT, Finance or Purchasing & Supply Management is rather rarely represented.
The sooner you start building your profile, the better. This allows you to choose projects during your career as an employed management consultant so that they fit your goal as a future expert or generalist. This has a positive effect on your career both in and outside of consulting.
4) Determine your daily rate
As a freelance consultant, it is common to charge a daily rate. This is negotiated with the customer before the start of the project and is valid for the entire predefined project duration. Keep in mind that as a freelance consultant, you have other costs such as social security, retirement, and reserves for vacation, sick leave, and days without project work. So it's best to have a minimum daily rate in mind that you can use to cover these costs and to guide your project acquisition.
The supreme discipline here is to extract the highest possible compensation that is appropriate. For longer projects, the daily rate may be set lower than for short and stressful projects. If it is a project that is tailored to you, you are in a good negotiating position. The important thing is: never sell yourself short and don't take on a project that is below your set minimum daily rate!
To give you an idea of common minimum daily rates in freelance consulting, we have compiled the stated amounts of our freelance consultants. Half of the freelancers on consultingheads charge a minimum daily rate of 500 to 1,000 euros. Since 1,000 euros is the most frequently mentioned value (15%), we recommend that you use it as a guide in your negotiations. The daily rate of the projects we arrange through consultingheads also averages between 700 and 1,500 euros.
See also Management consultant salary: How much do I earn as a consultant?
5) Build up a network for your project acquisition
Your qualifications and skills as a consultant are important. But it is at least as important for you to build up a network of customers from which follow-up orders can be generated. Because your long-term success depends on it. If you don't win customers, you don't generate revenue to cover your own costs. But how exactly do you build your network?
Personal network
As a first point of contact, you should tap into the potential of your professional and personal network. One way is to contact former clients, relevant colleagues or friends. Let them know that you are happy to help them with projects! You can also ask them for references and hope they keep you in mind or recommend you. Even if the direct contacts don't become customers themselves, they may know someone who later converts to a customer.
This way you can gradually build up a database of contacts from which you can generate leads. Once you have a few jobs under your belt, you'll realize you've gotten through the hardest part. Because satisfied employers ensure follow-up orders and recommendations. Therefore, don't forget to nurture relationships with customers. Always keep them updated on when exactly you are available for projects!
Mediation platforms
Especially if you drop out into freelance consulting after only a few years of experience, your personal network will probably be limited to a few contacts. But don't worry: Mediation platforms on the web that bring companies and freelance consultants together help young consultants in particular to land their first assignments and projects. But which portal is right for you?
With 4,000 registered consultants and 200 partner companies, consultingheads is now one of the largest mediation platforms in the German-speaking world. While some other portals charge fees to registered consultants, consultingheads is free of charge for users. Just register for free and take a look at our projects! Through our skill match you can quickly see which projects are suitable for you.
Career networks
Another tool for customer acquisition is the use of social networks. On XING or LinkedIn, you have the opportunity to find relevant contacts and actively contact them. Think about a short speech and offer yourself as an expert to support future projects. You should also update your profile regularly and indicate when you are available for new projects.
In addition, you can position yourself as an expert in your field on career or other social networks. For example, if you specialize in the field of digitalization, you should share relevant content and create interesting articles yourself on the topic of artificial intelligence, digital transformation and Consulting 4.0. In this way, you can attract the attention of potential customers, who will then ideally approach you later in their search for a digital expert.
Own website
We have noticed that it is now common for particularly experienced freelance consultants to present themselves on their own website. In our opinion, this is not a must, but a "nice-to-have". Because if the page is clearly arranged and graphically appealing, this shows professionalism and gives you the opportunity to reveal important information about yourself.
For example, you can present your career, your unique selling proposition and your expertise. Decorated with references, this makes a good impression on the potential customer. So if you feel like boosting your self-marketing with your own website, it's best to secure your own domain with your name.
6) Plan the timing of your cancellation
In the first part of the Freelance Guide, we recommended exiting to freelance consulting after about three years of consulting experience. But this should only be a rough guideline for you. The ideal time to exit depends on your career path, network, expertise and many other factors. You should also include in your considerations which path you would like to take into freelance consulting. We introduced you to the three different options in the first part of the freelance guide.
If you choose an option with termination of your permanent employment, you must consciously choose the time of termination. You should have planned ahead and have at least one project in sight so that the gap between permanent employment and freelance consulting is not too big. In addition, it is advantageous if you maintain a good relationship with your employer to possibly be considered for projects later on. Therefore, keep promises and responsibilities and be as open and honest as possible when giving notice.
7) Register your freelance activity with the tax office
As soon as you have acquired your first customers, it is worth going to the tax office to register your activity. The tax office will first check whether you qualify as a Freelancer or freelancer classified as a freelancer. As a freelancer, you have to meet certain requirements, such as a degree in business administration or a comparable degree, as well as consulting experience. (Little Tip: If you are a certified consultingheads-If you are a freelance user, you can assume that you are eligible to work as a freelance consultant. Finally, we screen our users by consulting background and academic profile).
If you meet these requirements, you are exempt from the trade obligation and double-entry bookkeeping as a freelancer. You only have to submit a simple income statement once a year. As a freelancer, on the other hand, you must register a business and pay business tax. In any case, you are responsible for paying income tax and sales tax. In return, you will receive a tax number from the tax office, which must be noted on all invoices, and a payment schedule with the amount of income tax to be paid. You usually have to pay this every three months.
8) Take care of accounts and insurances
As a freelancer, unlike a freelancer, you can theoretically also use your private account for business purposes. Nevertheless, we recommend you to open a separate account to separate the different transactions and transfers. This also helps you better plan for fluctuating income streams and ongoing costs such as taxes. For example, you can also transfer a monthly salary from your business account. This way you have a better overview and reserves to fall back on in case of emergency.
As a freelancer, you have to take care of your insurance yourself, since you no longer have a permanent employer. However, you can deduct contributions made, including allowances, as special expenses in your income tax return. You should think about the following insurances:
Health and long-term care insurance: Health insurance is mandatory in Germany. You have two options here: You can either take out voluntary statutory insurance or private insurance. Thorough research and direct comparison of different providers are worthwhile.
Pension insurance: As a self-employed person you are not obliged to pay into the pension insurance. But you should definitely cover yourself for retirement. You can do this through investment products (e.g. index funds) or by voluntarily paying into a private or subsidized pension insurance (e.g. Riester pension). The monthly contribution is 18.6% of income up to an income threshold of approximately 5,000 to 6,000 euros per month. It is important that there are no gaps in the payments, otherwise you will lose your entitlements.
Other insurances: In order to be covered not only in case of illness, we also recommend that you take out accident, (professional) liability and disability insurance.
9) Master your time management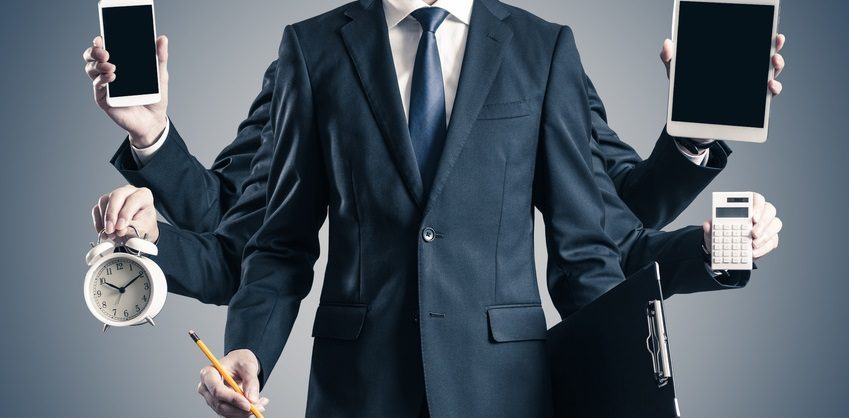 Once you have landed your first projects, you have already laid the most important foundation for your freelance career. Now it's a matter of successfully mastering the projects and finding time for your other responsibilities. Roughly speaking, you need time for: Project work, project acquisition, bureaucratic work, further education and free time. Good time and self-management is the key to success. Structure your week and your day, especially on days or weeks when you are not on a project.
Part of self-management is also being able to say "no." Especially in the beginning, you may feel like you have to take on all projects. Instead, you should select projects specifically. Always ask yourself and your client the following questions when choosing a project:
Are you interested in the sector/industry?
Does the customer or the company suit you? Maybe you would prefer to work for large and well-known companies or small hidden champions.
What expertise can you bring to the topic in terms of content? What can you learn?
What is the framework of the project?

Project location: Is the amount of travel acceptable to you?
Project duration: Is it a short term project or a long term project and does it fit into your planning?
Project load: Are you ready to master a rather demanding project? Do you feel the project is underwhelming you?

Can you imagine working well with the team and the partner in charge?
10) Educate yourself
Especially as a former consultant at a large management consultancy, you are used to a steep learning curve. But the days of PowerPoint and Excel workshops are over for you as an experienced consultant. Nevertheless, as a freelance consultant, you should try to maintain some momentum of your learning curve even after the consulting exit. You can use periods when you are not on projects for further training.
The investment will pay off! You stay motivated, your market value increases and you can better position yourself for your future project acquisition. For example, when choosing a course, you should focus on specific topics such as SAP and Big Data Analytics, which are currently in particularly high demand. Courses in customer, conflict, project and team management are also useful. From now on, take care of coaching or further education on your own in order to train your professional knowledge and especially your soft skills! Of course, you can also deduct these expenses from your taxes.
Infographic: 10 steps to becoming a freelance consultant [PDF].
Become a freelance consultant now
We hope that our two-part freelance guide has brought you one step further in your career decision. You want to look for specific jobs and projects right away? Then register with consultingheads – free of charge and confidentially. With us you get access to exclusive and for you suitable projects!
Don't forget to also check out the first part of our freelance guide: How do I become a freelance consultant? From permanent position to freelancer
Errors discovered or suggestions for improvement to our article? We are open to criticism and welcome your feedback – via comment or e-mail to [email protected].