Das erste Quartal des Jahres ist zu Ende. Das bietet Anlass, sich die HR-Trends 2019 näher anzuschauen. Diese basieren auf den gesellschaftlichen Entwicklungen: Individualisierung, Digitalisierung und Flexibilisierung. Zeit zum Umdenken und raus aus der Komfortzone – das ist die Devise. Zumindest sollte sie es eines jeden Personalers, aber auch Beraters, Geschäftsführers, Gründers und Freelancers sein.
But unfortunately, far from all companies are aware of the latest developments, let alone realizing their full potential. Yet another reason to ask yourself the question: What's keeping HR busy in 2019 and what are the most important trends in recruiting? We'll tell you in this article!
Overview:
Skills shortage – the HR problem of the year
The five most important HR recruiting trends in 2019
>> New recruiting event formats
>> Automation and Artificial Intelligence
>> Positive Candidate Experience
➥ Infographic: HR Trends 2019 [PDF]
>> Ethical control of intelligent HR technologies
>> Flexibility, freedom & freelance
>> Work-life blending as a new problem
Skills shortage – the HR problem of the year
The shortage of skilled workers is the central HR issue of the year. In our experience, many companies have problems finding qualified employees for their vacancies. The result is slower growth. Because where the necessary expertise is lacking, innovations and developments can only be driven forward with difficulty. So what can companies do to ensure that they don't come away empty-handed in the competition for the highly sought-after skilled workers?
They need to exploit the potential offered by modern, digitized recruitment. But clinging to tried-and-true methods, many companies are lagging massively behind these possibilities. Furthermore, they do not respond enough to the wishes of their candidates. Nowadays, top talent cannot simply be fobbed off with average salaries and a poor working atmosphere as a means of achieving corporate goals.
The five most important HR trends in 2019
Recruiters must offer more this year at the latest. One basis for this is to think about your own recruiting and to go one step further in your HR strategy.
What trends is your company lagging behind in? We look at the five HR trends that are currently the most important and where many companies still have room for improvement.
1. recruitment marketing
HR is currently experiencing a paradigm shift. HR professionals are increasingly using marketing techniques in recruiting to meet the challenges of the job market. In contrast to traditional recruiting, recruitment marketing starts earlier in the contact with candidates. Contact should be made before the prospective employee even starts looking for a new job.
The goal is first to create awareness and be positively remembered by the candidate. Marketing techniques such as inbound recruiting, SEO-optimized content marketing, and social media marketing are used to engage the target audience. Companies can actively promote themselves as employers, present career opportunities and seek direct exchange with potential candidates. By the time the candidate starts looking for a job, the contact already exists and the contact can try to guide them along the talent acquisition funnel to a successful hire.
Employer Branding Trends
Employer branding as an essential part of recruitment marketing continues to play a major role this year. The trend here is clearly toward video content and storytelling. Because applicants don't remember facts and figures. Instead, they want emotions, which are especially transferable through videos and stories. With good content, companies manage to reach potential applicants on an emotional level and remain in their memory in the long term.
McKinsey, BCG and Roland Berger are showing the way with their latest recruiting videos, demonstrating different facets of how companies can use videos in employer branding:
Employees tell their own stories in videos and convey authentic messages in a way that text never could.
Interactive 360-degree videos enable a virtual office tour to showcase the candidate's future work environment and vividly portray the atmosphere.
Through regular videos at team events or social engagement, companies position themselves as credible and attractive employers.
"Google for Jobs"
"Google for Jobs" has also been available in German-speaking countries since May 22, 2019. This brings job ads back into focus and should be optimized. In doing so, it should be noted: The more specific the job advertisement, the more effective the personnel selection. This also includes the indication of the salary.
The goal is definitely not to appeal to as many applicants as possible through vaguely worded vacancies. Too many irrelevant applications lead to unnecessary workload for recruiters who have to process applications. A/B tests of different description texts, images or videos help to find the best job advertisement, just like in marketing.
Particular focus should also be placed on the career pages of companies, which are once again gaining in importance as a result of the Google update. Through optimized presentation, jobs can then be found directly on Google via their own page. The supremacy of job exchanges like Stepstone could dwindle.
New recruiting event formats
The recruiting fairs of the future will take place online: with virtual info booths, chats and video interviews. This provides a cost-effective way for companies to connect with candidates in person, quickly, and without a lot of work. For candidates, online formats are convenient in return, as they can reach remote trade shows from their couch and expand their professional network.
However, interactive real event formats such as job speed dating, blind recruiting, cooking sessions, and short joint city trips to hip locations are also becoming increasingly popular. There are no limits to the ideas here and the rule is: the more unusual, the better. The advantages are that qualified candidates who are passionate about the company and fit in are recognized right away – even if they don't necessarily shine on their resume.
Strategy& combines the employer branding trend "storytelling" with an exciting event in Sicily in this video. In the consulting industry, where human capital is the most important asset, innovative recruiting ideas have been taking hold for years. Especially exciting career events(BAINWORKS in Barcelona with Bain & Company, Off to the South to Mallorca with Deloitte, etc.) are very popular with companies and candidates.
2. digitization

Not only the consulting industry, but also human resources are undergoing a digital transformation. The clear trend this year is "HR Innovation Labs" and experimentation with innovative HR solutions, such as artificial intelligence, apps, softwares and automated programs. The aim is not to replace human recruiters, but to relieve them of routine tasks through automated processes.
In data-driven recruiting, a large amount of data is collected by applicant tracking systems and recruitment marketing platforms (such as talentry or VONQ). With software, recruiters can then automatically analyze key metrics such as time to hire or cost per hire. This helps to understand which parts of the recruiting strategy are working well and which can be improved.
Automation and Artificial Intelligence
The digitalization of recruiting benefits candidates, employees and companies alike. Processes are accelerated, their quality improved and costs reduced.Examples are:
| | |
| --- | --- |
| Process | Digitized solution |
| Manual candidate search | Smart systems use algorithms for the automated search for suitable candidates (see Active Sourcing) |
| Manual candidate screening | CV screening tools automatically select suitable candidates according to specific criteria and keywords |
| Communication with candidates before and during the application process | Recruiting chatbots available to candidates at any time of day to keep them informed |
| Interviews | A mix of video interviewing, VR testing and live interviews to facilitate candidate selection (example: Accenture, Imbellus). |
| Administrative activities such as billing | Automated response to queries in smartphone apps |
| Establishment of shift or project schedules | Digital plans, automatically created according to preferences, time required |
| Process monitoring | All-in-one tools transparently track all HR activities on one platform |
| Headhunter or recruiter | Digitized Mediation platforms (Example: Honeypot, consultingheads) |
| Training seminars for groups of employees | Digital learning units individually tailored by A.I. to the employee, his interests and progress |
| Information exchange | Digital knowledge pool and virtual knowledge transfer through gamification approach |
Active sourcing
In active sourcing, recruiters actively approach candidates on the web about companies and job openings. This is an effective strategy because it cost-effectively reaches passive candidates who aren't looking for a job or don't feel like proactively applying. After all, that's 70% of the global workforce. By the way, almost all of them – both active and passive candidates – are interested in learning about new job opportunities.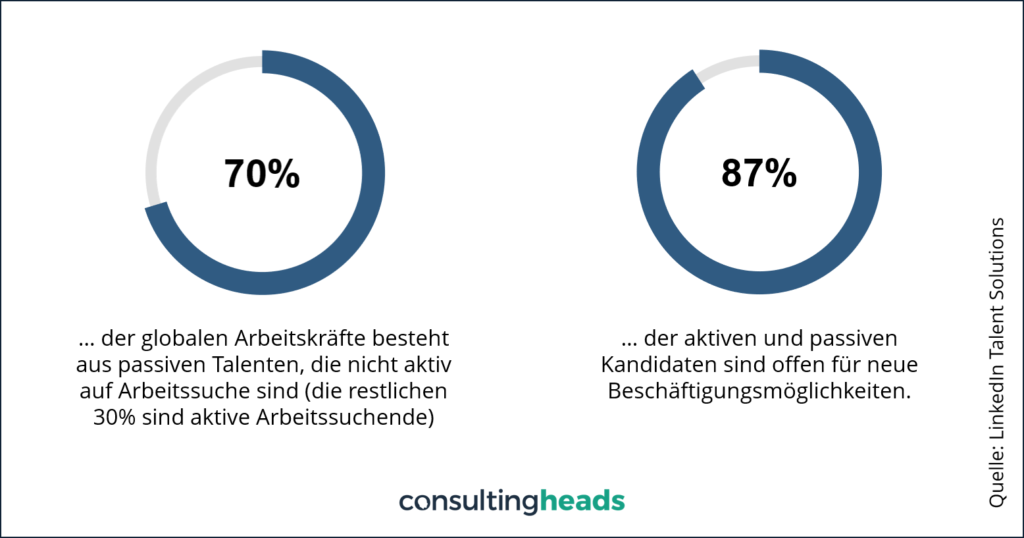 Until now, active sourcing has been largely manual, but this year at the latest, companies will increasingly automate this process. The HR manager defines the requirements using keywords, and with one click, a sourcing tool searches all business networks, social media and job platforms for people who meet these requirements in a data-protection-compliant manner. The individual approach is then taken over by the personnel manager himself.
Mediation platforms
Instead of hiring expensive headhunters or recruiters, companies are increasingly turning to digital placement platforms like Honeypot or consultingheads. This saves them costs and time. This is because they do not have to take care of digitizing the internal selection processes themselves, but instead rely on external providers who have already automated these processes.
For example, at consultingheads we support consultancies, companies of all sizes and start-ups in their search for suitable freelance or full-time reinforcement with a consultant profile. Our skill match allows us to find out in a flash how much candidates fit a specific position based on the prerequisites stated by the company. Supplemented by predictive analytics, we can also see whether candidates are interested in the job and are even willing to change. We thus accelerate the first step of the personnel search for companies enormously.
3. candidate-first approach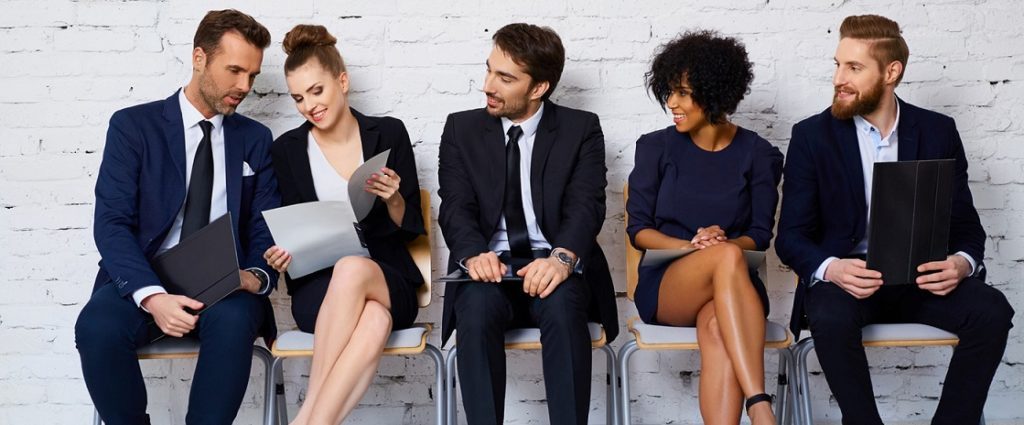 By automating many processes, HR professionals can spend more time on more important things. Instead of struggling with application materials, for example, recruiters can now focus entirely on candidates, creating a positive candidate experience and maintaining better contact with them. This is leading to what is probably a long overdue shift in thinking, where candidates are perceived as customers.
This is necessary for companies to attract new talent as well as retain their employees longer. Free fruit, summer festivals, fitness opportunities can be a good start. But companies should also create benefits for their employees beyond this. The best way to do this is to involve employees in designing their working conditions and try to implement their wishes together.
Individual approach
The step that follows automated active sourcing is the individual direct approach. This is crucial because highly qualified candidates receive many messages from recruiters every day via XING or LinkedIn. The primary objective here is not to find the right employee immediately. The focus should be on establishing personal contact.
In order for the company to be positively remembered by the candidate, recruiters need to look very closely at the candidate's resume. A crisp text that addresses the candidate's individual and relevant career stages, without simply repeating the resume, is then used to invite contact.
Sending mass messages is an absolute no-go! Even an invitation to apply for the job via an online link will at best achieve nothing and at worst leave a bad impression.
Positive Candidate Experience
As part of the candidate-first approach, it is important to create a positive candidate experience – from screening and application to interview, hiring and onboarding. For example, candidates who fill out long and complicated application forms simply abandon the application process. If an applicant has to wait weeks or even months for feedback, this leads to frustration and a bad reputation for the company. If, on the other hand, he has a positive experience, he is more likely to accept the job offer, recommend it, or reapply in the future.
To better understand the candidate experience from the applicant's point of view, it makes sense to first create a candidate journey map that shows all contact points with the company. In this way, new potentials, but also weaknesses in the recruiting process can be identified. If there is a lack of the necessary capacity within the company, support should be sought from mediation platforms.
Groomed talent pools
All highly qualified talent with which a company has ever been in contact should be included in a separate talent pool in line with data protection requirements: former colleagues, employees or applicants, sourced or recommended talent, and candidates who had themselves included in the pool inbound or at career fairs. As soon as a position becomes available, you can then search the existing pool and find suitable candidates in a flash.
For the company, which does not have to acquire potential candidates first, a talent pool offers a cost-effective method of finding suitable candidates. Since the candidate is already familiar with the company, they are more likely to be interested in the job or recommend it to others.
With good candidate relationship management, companies then also remain in contact with their talent pool as a matter of principle. For example, interesting and relevant email campaigns or newsletters about innovations or exciting events can be sent.
Infographic: HR Trends 2019[PDF]


4. ethics
Today, candidates are no longer primarily concerned with above-average pay and interesting benefits when choosing a career. It is much more important for them to work for a company with which and whose values they can identify. They want their personality and the team to match.
HR professionals who strive for the perfect candidate fit fulfill these desires and think long-term. Because staff who feel comfortable and integrate well into the team work more effectively and stay with the company longer. A corporate culture that encourages every employee to contribute with their entire personality exploits their full potential.
Diversity
Diversity in Germany has so far been understood primarily as gender diversity. Now the understanding of diversity in companies is expanding. The third gender, age and sexual identity are coming into focus. In addition, immigration offers great opportunities to find skilled workers and allows dimensions such as internationality, religion and ethnicity to finally become part of corporate diversity.
This is not about guidelines and laws, but about corporate cultures that live diversity. If you want to prevail in competition, you have to build diverse teams, because the advantages of them have long been scientifically proven (source: Harvard Business Review). Digital technologies in the form of cultural assessment tools can help recruiters with their team composition in the future.
Ethical control of intelligent HR technologies
However, digital tools of this kind also present us with a confrontation of ethical issues. Will it be possible to hire employees in the future without any human contact at all, but only on the basis of an algorithm's decision? For example, how can we ensure that a cultural assessment tool or intelligent screening algorithm does not discriminate against employees? What data may be stored about employees and for how long?
Especially when using data about employees and teams, companies must be cautious and act responsibly to ensure that individuals' privacy rights are protected. Those responsible in companies have a duty to establish transparent rules about what employee data is stored and how it is used. Choosing software solely on the basis of efficiency considerations or blindly following the legal rules falls short in the face of rapid change and legislative inertia.
5. new work
"New Work" refers to the working world 4.0, which will prevail in the future society in the digital and global age. Away from rigid regulations and outdated work structures toward flexibility in terms of time, space and organization in the workplace. Future work is characterized by the following three features:
Freedom & flexibility in the form of mobile working, flexible working places, times, but also tasks, which provide more freedom for the employees
Agile processes and agile management with flat hierarchies that promote quick decisions and give employees personal responsibility
Modern office concepts that adapt to the individual needs of employees with creative open spaces, office sharing or individual offices
Early adopters can score points here as employers and manage to inspire new high potentials and bind them to the company. However, it is important for both the company and the employees to create the right framework conditions to ensure that this new working concept also works and meets the needs of everyone involved.
Flexibility, freedom and freelance
Flexibility is primarily reflected in employees' desire to be able to choose their own working hours and place of work. Mobile working, home office, sabbaticals, job sharing and the four-day week are options that companies will increasingly offer their employees this year.
But the labor market is also becoming more flexible, both because of this desire for freedom and because of digitization. At consultingheads, we are seeing a huge increase in freelance projects that companies use to cover their peak demand at short notice. Candidates, on the other hand, are grateful for such short-term projects to keep their heads above water on the side, for example, when starting a business.
Agile leaders
Leadership must also change this year to adapt to overall social and economic developments. HR managers should support their executives in becoming even more agile.
The motto is to move away from being a manager with control and towards being a role model and leader with trust. Agile managers give their employees freedom, encourage personal responsibility, self-organization and personal and professional development. Coaching, feedback and continuous dialogue are the key to success. The change from input to output orientation is the focus, which means that working time becomes less relevant and results count instead.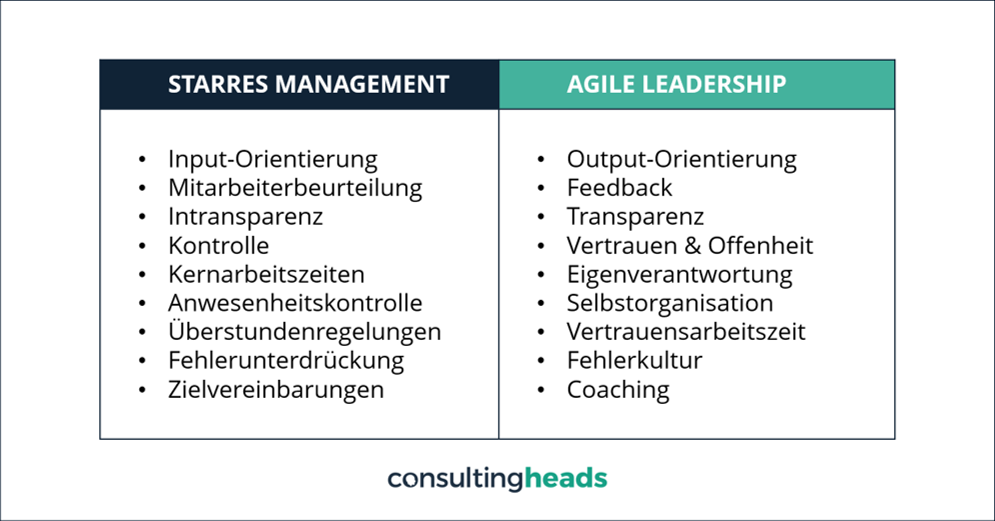 Work-life blending as a new problem
For young employees in particular, well-being at work is becoming even more important. Nevertheless, due to the current shortage of skilled workers, workload, stress and excessive demands on employees are increasing. The medical journal reports:
"Every second German citizen feels threatened by burnout. Six out of ten respondents complain at least occasionally about typical burnout symptoms such as persistent exhaustion, inner tension and back pain. […] 61 percent of people in Germany each complain of back pain or fatigue – 23 percent in each case even frequently."
The discussion is no longer about "work-life balance" but about "work-life blending ," the merging of professional and private life due to new ways of working, such as mobile working. HR managers have a duty to take appropriate precautions to ensure that this dissolution of boundaries does not lead to a new health risk. They must not leave employees to deal with these issues on their own, but offer health-promoting benefits such as sports programs and consider reduced working hours. Above all, they must create a corporate culture that is responsive to the individual needs of employees.
Holistic Approach is Key
Above all, HR staff should recognize and fundamentally understand both social developments and trends in HR management at an early stage so that they can then successfully align HR strategy with them. Reading blogs, trade journals and books helps to identify trends and developments at an early stage.
It is important to set up a holistic strategy that manages to reach, hire and also retain the appropriate candidate target group. Those who think in the long term and progressively are clearly at an advantage. And those who seek support are by no means showing weakness.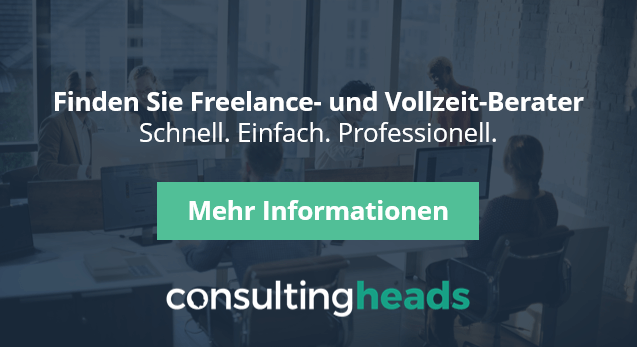 Errors discovered or suggestions for improvement to our article? We are open to criticism and welcome your feedback – via comment or email to [email protected].