Who are our consultingheads users anyway? A selected mix of (young) professionals and experienced experts. Among them is Christopher Schulz, who holds a doctorate in business informatics and has been working as a consultant since 2008. With more than eleven years of professional experience, Schulz naturally knows the best methods and techniques for successful consulting. He reveals them to you in the following article:
---
Imagine you are a self-employed business consultant and you are taking part in a sports competition. In which discipline would you compete? Cross-country skiing? Long jump? Perhaps also blocking throw?


Successful consulting = acquisition + projects + development
After more than 11 years in consulting, one thing is clear to me: As a management consultant, you are a three-striker. You will achieve maximum success if you succeed in three different disciplines at the same time:
Discipline 1 – Marketing & Sales: Without contact network, reference customers, brand, needs analysis, etc. no consulting engagement. Whether inbound or outbound marketing, digital or online sales, existing or new customers – consulting is acquisition.
Discipline 2 – Project work: Without workshops, document analysis, employee interviews, status presentation, etc. no project result. No matter whether you advise on strategy reduction, process optimization or IT system implementation – consulting is project work.
Discipline 3 – Further Development: No acquisition or project skills without specialized training, conference attendance, book reading, product development, etc. No matter in which domain you already have know-how and customer contacts – consulting is learning.
This closes the circle and we end up back at discipline 1.
The fine art now is to allocate the scarcest of resources: Your available time. Should I put Friday afternoon into a technical article for potential new clients? Further detail the project result in terms of a better relationship with the existing customer? Wouldn't it be better for me to gain further qualifications and deal with current topics such as blockchain or digital business models?
Decision like this I can not take from you. However, I would like to introduce you to three methods from my consulting method case that will help you in all three consulting disciplines. So let's get started right away and start with marketing and sales.
Defining measures in a structured manner when talking to new customers – the QHAR principle
Needs Assessment. I'm sitting with a potential new customer. After the small talk, the prospect begins to talk about their internal company challenges. I listen and ask questions. My share of speech is 30 percent, that of the customer is 70 percent. Everything runs like clockwork. The customer talks about the suspected causes, suggests possible solutions. We go into the details. The danger is that we get lost in the details and go from small to large. The conversation is professionally deep, but no concrete result is reached.
Use the QHAR principle in discussions around potential causes and solutions. The four letters of the technique stand for Question, Hypotheses, Analyses and Resources. The question targets the problem or need, is open-ended, specific, and relevant. Hypotheses are possible answers to the question. In the case of a problem, these are the causes; in the case of a need, these are the solutions that have been worked out. Each hypothesis must be validated, i.e. confirmed or refuted, with the help of at least one analysis. Finally, the resources correspond to the time, personnel, materials required for the analyses.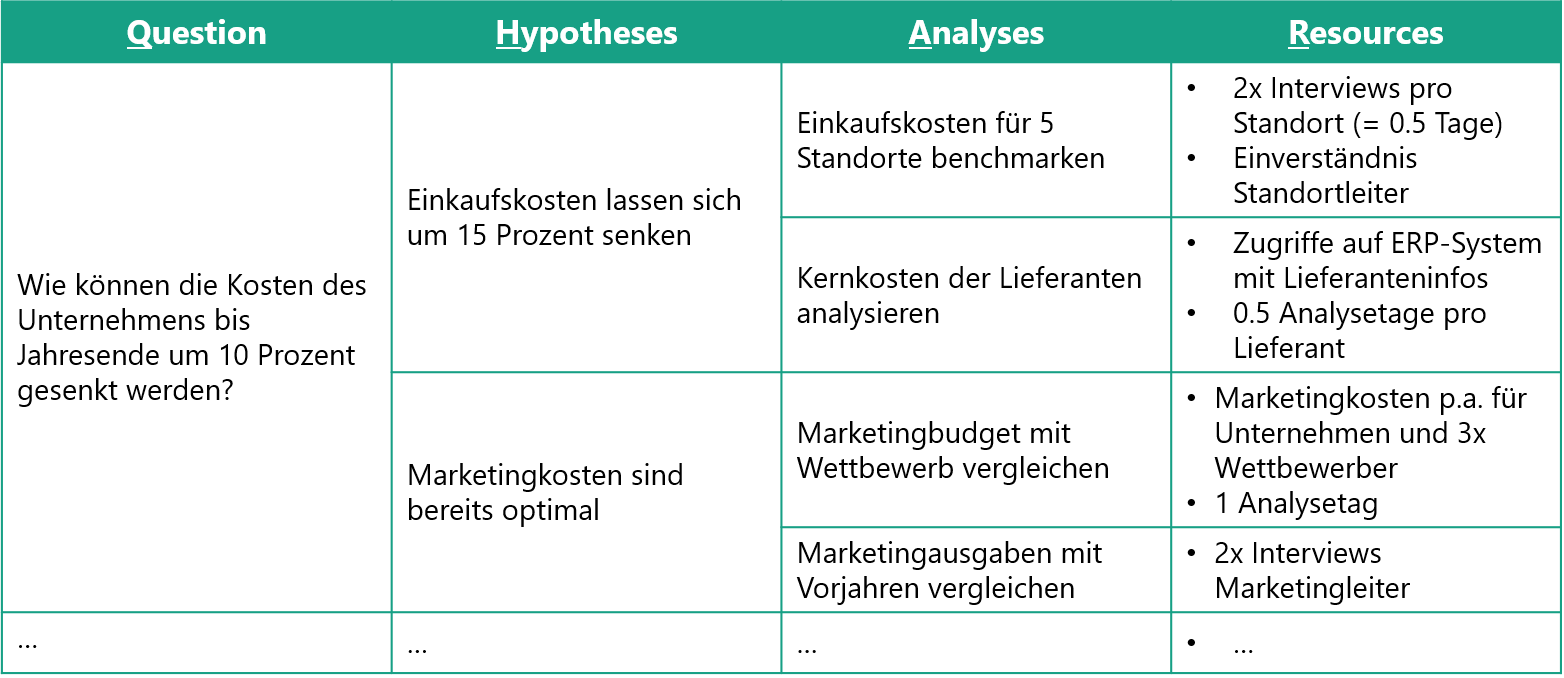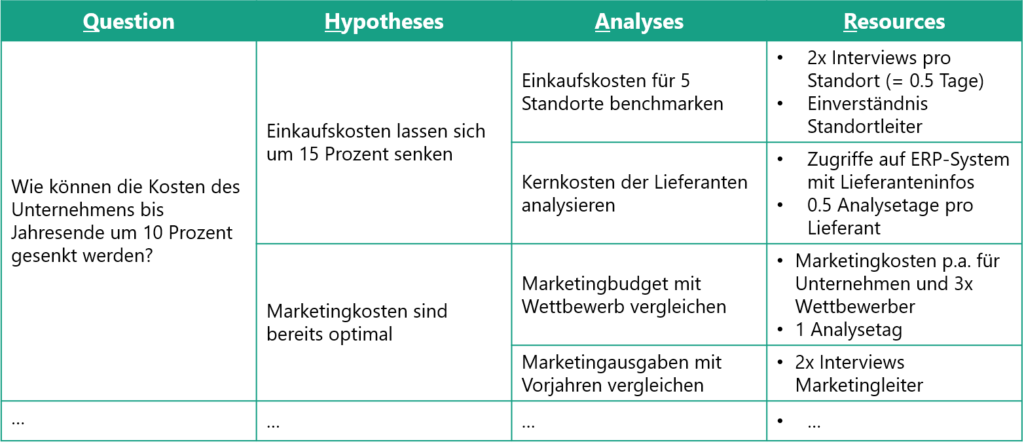 The QHAR principle is easy to learn and – even better – easy to remember because of the catchy name. This is especially practical in demanding situations such as a needs analysis. The presentation of question, hypotheses, analysis, and resources fits well on one slide, making it easy to communicate. You leave a needs analysis with a slide structured according to the QHAR principle. The potential customer and you then know at a glance: 1. what is the problem, 2. what measures are required, 3. where and how the consultant can help.
Avoiding subsequent scope change – the job description
Here we go. My client hired me for an 8-week consulting engagement. Great! Actually, goals, outcomes, and measures were mapped out. Actually. Because that was before the summer break. In the meantime, it's autumn and the world has moved on. The customer employees tell me about completely different problems and see much more important goals "at the grass roots". The risk: I just work on it. After all, I only want the best for the customer and his workforce. The scope shifts, all by itself. I tackle things that are not actually part of my mandate.
At the beginning of the project, define the goals, the actors and the scope of the project with the help of a mission statement. Add to this a rough approach, the timeline, the planned budget and the anticipated risks. You manage expectations with a job description. The one-pager creates a common understanding between customers, employees and you. This ensures transparency. And at the same time it is your reinsurance in case of sudden additional requests from the customer.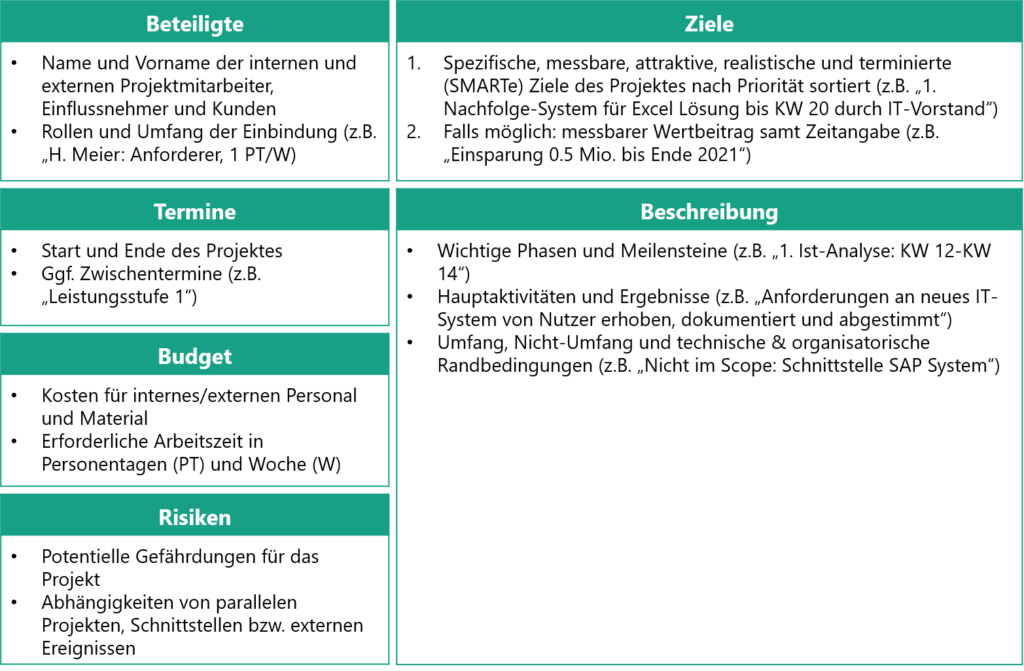 Mission clarification casts a helicopter view of your engagement. Central organizational and content-related facts are clearly summarized on one page. Everything has its place. The structure helps you not to forget any important aspect when filling. Again, a reader always knows immediately where on the paper to find what info.
Freeing the consultant's everyday life from ballast – the VARES model
And again a week is over. What do I actually do all day? Advise customers! Really? If I look closely, a lot of time is spent on individual operational activities. Travel Expense Report. Appointment Organization. Timekeeping. Directions. Project Report Preparation. Of the 1,700 hours of work available per year, I have perhaps 1,200 hours left for real value creation. Around a third generate no real benefit for either my customers or me. On the contrary, new things are constantly being added. The time thieves multiply instead of disappearing!
Maybe you're like me – it's much easier to add new things than to part with existing ones. However, the tasks, habits and micro-activities accumulated over the years eat up valuable time, tie up attention and take up mental space. The VARES model helps you to clean up. Based on guiding questions, you conduct an as-is analysis, identify aspects that you should simplify, automate, reduce, remove or systematize. This creates space that you can then put into your further development.
The VARES model is a simple and directly applicable approach to streamline the historically grown operational structures and to trim them back to a healthy level. You can use the model for personal and professional purposes, both for yourself and for the client company.
Top athletes have techniques. They train these thousands of times, repeat, refine, optimize. On competition day, the athletes then put the methods to work in perfected form. And emerge victorious. The best thing to do is to try out the methods presented. Good luck in the consulting triathlon!
Dr. Christopher Schulz, www.Consulting-Life.de
Christopher Schulz relieves customers in building their business & IT landscapes and especially in the structured and efficient selection of the optimal business software.
Since 2015, he has been passing on his knowledge to management consultants in books and his blog Consulting-Life.de. He has recently transferred his methodological know-how into the in digital consulting method case. This helps consultants, coaches and project managers to professionalize their knowledge work and to inspire customers with first-class results.
---
Do you have ideas or other useful tips that you would like to share with our users? Let us know – by comment or email to [email protected]